Step #1: Use a functioning Windows PC that is connected to the internet (8GB of free disk space required).
Step #2: Insert a blank external USB thumb drive into the PC (8GB minimum). This USB stick will be completely overwritten even if it is larger than 8GB so make sure you don't have anything on it that you care about.
Step #3: Download Windows Media Creation Tool.
Step #4: Run the Windows Media Creation Tool as Administrator – you can do this by right clicking the file and selecting "Run as administrator."
Step #5: Agree to the license terms.
Step #6: Select "Create installation media (USB flash drive, DVD, or ISO file) for another PC," then click "Next."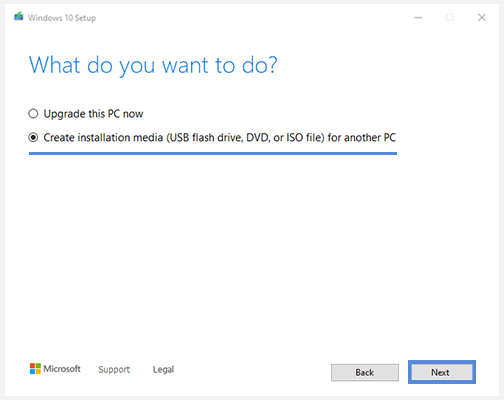 Step #7: Select the Language, Edition, and Architecture that matches your machine, then click "Next."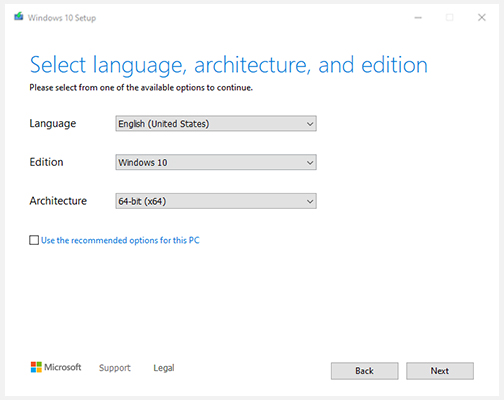 Step #8: When prompted to define the media to use select USB flash drive: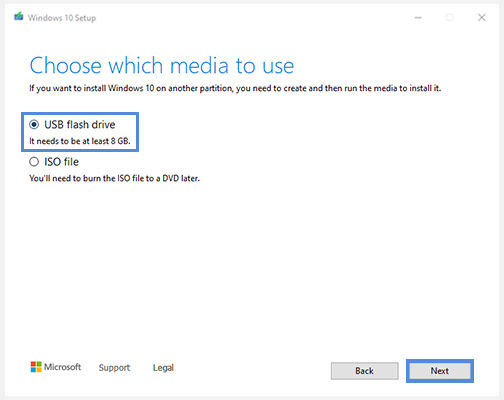 Step #9: The tool will download Windows and make the USB drive a bootable disk. When that process is complete (Windows will notify you and this will take a while because it is downloading a large file and then writing it to the drive), remove the USB flash drive from the PC and plug it into the machine you are working to install Windows on.

Step #10: Boot the machine you are installing Windows on.
A. If it prompts you to install Windows, great job! Proceed with the prompts to reinstall your OS.

B. If it does not prompt you to install Windows, your device isn't booting from the USB drive, and you must change your BIOS configuration, as follows:
I. To enter your BIOS, watch the lower left of your screen on boot-up. The machine will display the key you must press to enter and configure the BIOS. The message only displays briefly and different BIOS manufacturers use different F (function) keys or the Esc key to trigger BIOS configuration. Holding this key during bootup will take you into the BIOS configuration interface.
II. Once in your BIOS configuration, find the page for Boot Options, and under Boot Order, move the option for Key/USB Drive up to the first position in the list for both UEFI and Legacy Boot. Then Save and Exit the BIOS. Rebooting now should boot from your USB, and prompt you to install Windows.
Start Your Free 30 Day Trial
Each day brings new cybersecurity challenges, so your organization needs simple and wide-reaching solutions to combat those challenges. DriveStrike is here to help you protect your most critical data with premium quality endpoint security. Start a free trial with DriveStrike today, and contact us if you need any assistance. Our team is always ready to answer your questions.